By: TheJewphin
Some days you just want a fast-paced metroidvania. The ability to just shoot through a level makes the exploration that much more rewarding. If you want a game about swiping fast, killing fast, and progressing through a level fast, then Kunai is the game for you.
Kunai is an adorable 2D action platformer where you play as a tablet samurai – that is, a computer tablet with a samurai sword. In a world overrun by evil robots, you are the experimental spawn of the resistance robots that was built to save robotkind. Or something like that. The story has a very light touch on the game, lending itself more to the atmosphere than to long dialogue events or cut scenes.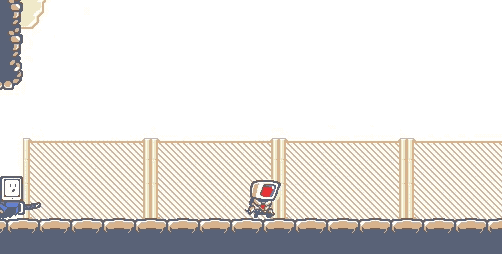 Kunai, at it's core, is a game about being fast. You swing your sword rapidly, you run rapidly, and the first few abilities you unlock let you move rapidly. Within ten minutes, you unlock your first movement tools – the kunai. The kunai allow you to grapple to the walls and ceiling and swing from place to place. Once mastered, they allow you to rapidly climb walls or swing through stages in a way that feels extremely rewarding.
The PAX demo of Kunai had a few short levels followed by a boss. The boss was a lot of fun to fight, testing your swinging, jumping, and slashing mastery. One thing I loved about the boss fight was that the boss would not change up his attack until you had countered his previous one. Thus, unlike other bosses that randomly cycle through three or four attacks, this boss required you to learn how to dodge and counter each attack before he could be defeated.
As a final note, I loved the art style of this game. The gray and white surfaces have a muted tone which are perfectly offset by the red in the enemy soldier's faces or your blue kimono. It makes all the threats that much more striking while immersing you in this washed out and destroyed world.
Check out the trailer below: