Developed by YVJY Games and Released in 2019. Sea Salt is Available on Nintendo Switch, Xbox One, Microsoft Windows, Linux, Macintosh operating systems
Sacrifice is the religious rite to offer something to maintain a relationship with the divine. In Sea Salt, you are Dagon, a Mesopotamian Deity through the lens of Lovecraft. And your highest servant has failed to complete this sacred rite and refuses to sacrifice himself. You are the unholy arm that reaches from the dark depths of the sea. And you seek what you are owed.
Sea salt is a reverse horror game that lets you control a small army to complete your sacrifices. You begin with an Apostle and as you unlock others, they each bestow different benefits. Its has point and click controls and the minions follow or attack. Its a very basic control mechanic that can get cumbersome as you grow a horde. Its a game of attrition, crunching your numbers against their numbers. Its best if you quickly overwhelm your enemies. It feels like herding sheep and I felt like the controls needed an extra dimension to make it feel more concise. But maybe that's not the point, your letting loose horrors into the world. The sounds effects of the monsters that crawl, slither, creep and limp are the chef's kiss. Each death is like a satisfying pimple being popped from existence. It never gets old, just a little more difficult.
The colour palette of the game is a bleak and sordid affair. So its perfect. I could imagine Williem Dafoe and Robert Pattinson from Lighthouse stuck somewhere on this map. But when it comes to some of the character designs, some of them are purely representational. What I mean is…It can be difficult to distinguish characteristics of some of the enemies. One of them, I couldn't discern if he had a fancy hat or a fancy hair do. Its wasn't something that effected the game play in any way but you know….bugged me through out the whole game if he was wearing a fancy hat. So sometimes the minimalism of the art didn't translate well.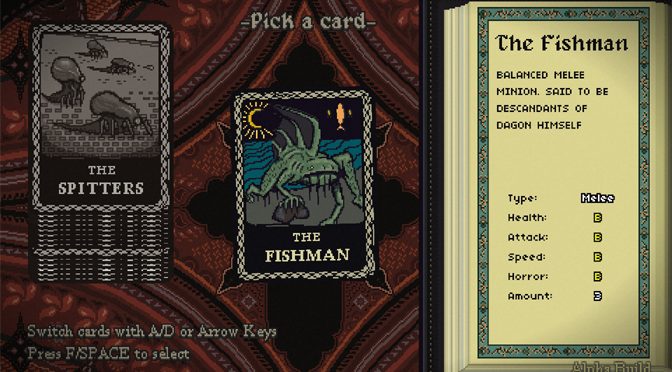 The game reached a point where I could make a decision to ally with the forest witches or challenge them. But you don't hear about it ever again. And It would have been interesting to have seen further consequences. Witches burning the villagers or maybe the witches betraying your alliance. Choosing the path you progress on the map was a powerful addition to the game. And I think more choices in game would have elevated the experience. There isn't much variation to "defeat everything". It would have changed up an otherwise repetitive kill goal and mechanically, allowed the player to interact more intimately with the games mythology.
The game is segmented into blocks of stages/levels and at the end there would feature a boss battle. The boss fights are a hectic scramble to learn their attack maneuvers and return fire. Your choice of Apostle can drastically change your strengths and strategies .I found some Apostles could easily overwhelm a boss encounter over others. The final boss lacked a crescendo that reflected the reckoning of a Lovecraftian god. It opens with a massacre and your final entrance is bathed in blood. But it ends without surprise or world shaking events. It was just an extended version of the mini boss encounter and it just felt unremarkable.
Now I criticize the game only because I had so much fun. Its a game that inspires me to imagine more as I play it. I really liked the feel of villainy as I first marched my minions into a fishing village. And when you fine tune that perfect mix of monsters, you'll descend upon a village like an ancient Egyptian plague. The controls can be clunky and only at one point did I find myself repeating the same stage. Which isn't bad, it had the right level of challenge and it wasn't punishing. This a great game if your looking for something short, maybe between other games. Give this one a shot. If your like me, I like games that I can finish.
If you've played the game, leave a comment about your choice of apostle and minions. I chose Saint Kristina Blavatshy and just raised a zerg army of spectres. Until next time.