By: RogueSymbiote, Illusion & Mithrandiel
In a time where many find themselves at home with far too much time on their hands, I figured it was only fitting to throw together a list of fantastic tabletop games for your quarantined households to enjoy. Unlike most lists we post, this one has no particular order. If one sounds like fun, order it and have a blast! Now lets dive in!
Boss Monster
Boss Monster is a quick and easy to learn game with phenomenal 8-bit art. You play as a boss, designing the most deadly dungeon in order to lure in adventurers. You win when you successfully defeat 10 adventurers and collect their souls MUAHAHAHAHA!!! With a great play mechanic and plenty of expansions, Boss Monster is a fantastic addition to any game library. Check out our full review of Boss Monster here! You can order your copy of Boss Monster by following this link over here!
Pandemic
Believe me when I say the irony of putting Pandemic on this list is not lost on me. Truth is Pandemic is a highly repayable tabletop game that offers high variability with every new play through. You and your team work together to prevent the global outbreak of various diseases. After choosing a character with a unique ability, you spend turns trying to clear infected cities around the world. For a full review, click right here! You can order your copy of Pandemic by following this link here!
Power Rangers: Heroes of the Grid
I'm sure I've lost some of you out there that are not Power Ranger fans, but hear me out. Heroes of the Grid is a fantastically well thought out co-op pseudo deck builder with surprisingly fun play mechanics. With incredibly detailed minis, beautiful art and an ever growing pool of rangers and monsters, Heroes of the Grid is a fun time no matter if you're a fan of the franchise or not. I've played multiple games with friends who could care less about the Power Ranger IP, but thoroughly enjoyed the battle mechanic. Each ranger has their own individual battle deck with unique abilities that make games drastically different depending on team composition. If you are a fan of Power Rangers, this is a MUST BUY! For a full review, click right here! You can order your copy of Power Rangers: Heroes of the Grid by following this link here!
Scythe
One night, many, many months ago, I went over to my friend Johnny's house for a round of Scythe. The game, which blends an early 20th century political landscape with armored robots, pits players against one another as rival generals from various factions. The general goal is conquest, and in the process, acquiring specific objectives. Once 7 of these objectives has been met by a single player, the game ends and scores are tallied. At the end of this particular game, at around 10:30 PM, we looked at each other and said "What if we played one more time?"
And we did. And ordered pizza. And it was glorious. But I digress…
It's hard to pin down just what it is that makes Scythe so fun and addictive, but for one thing – randomized boards drastically alter your strategy from game to game. You may have a setup where it's relatively cheap to build your robot army, or maybe your board focuses on recruitment or building instead. This, combined with the various faction traits, makes each playthrough just a little different. In addition, Scythe has seen a handful of expansions that added airships and additional factions to gameplay, as well as additional objectives and win conditions.
Overall, Scythe is one of our standby titles, and chance are it will be one of yours too if you give it a shot!
Quacks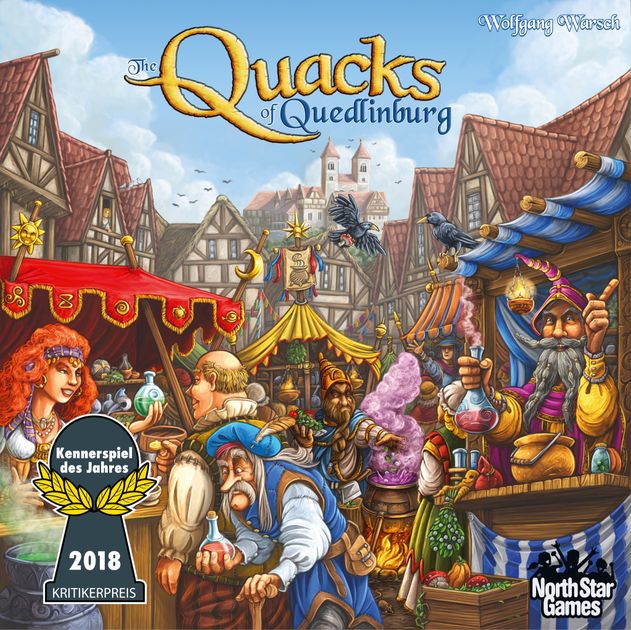 So this was an interesting find. The previously mentioned friend, Johnny, introduced this game to me a few months ago and I fell in love almost immediately.
In Quacks of Quedlinburg, you play as a "quack" doctor, mixing concoctions at your own peril, hoping that your creation won't literally explode in your face. You place small wooden tokens on a spiral board, and depending on how far you get, you gain currency to purchase more "ingredients" in an attempt to get more points the next time around.
Various ingredients have different properties, some allowing you to pick your next ingredient more strategically (it's typically a blind grab from your bag…thus adding the risk of pulling something that might put you over the edge and cause it to blow), others allowing you to gain currency or extra victory points depending on its placement.
A wonderful, fast-paced game – Quacks of Quedlinburg is a great family game that blends accessible gameplay with higher-end strategy. A great way to pass the time!
Twilight Imperium
Imagine Risk. In space. On steroids. Now toss in some political maneuvering and a robust technological and economic system, and you're beginning to get some idea of the majesty and mayhem that is Twilight Imperium. Its reputation precedes it, in that it is known as an exceedingly long game to play…and it is. If it's your first foray, buckle in for around 6-8 hours or so. Later games, once you really have a feel for the flow, might be done a bit faster. Of course, there are ways to adjust the length as well by reducing (Or increasing…)the number of victory points needed. This exceedingly long playtime often serves as an obstacle for more regular play. Then again, in #quarantinelife it's a bit easier to find the time.
With nearly 20 races, each featuring unique traits, a randomized board with each playthrough, and an ever-shifting deck of objectives, Twilight Imperium is a great way to spend not just an afternoon, but often times a whole friggin' day.
Have fun!
Western Legends
If you've ever played Red Dead Redemption and thought to yourself "I wish this was a board game." Boy, do I have the recommendation for you! Western Legends is a thematic game that supports up to 6 players, each taking on the identity of a famous western figure, from Calamity Jane and Wild Bill Hickok to Geronimo and "Stagecoach" Mary Fields. You travel across the expansive board, electing to hunt down bandits, mine for your fortune, or rustle up cattle. One of your friends decides to walk the path of an outlaw? Bring the law to them in a duel, and send them to jail!
Our group really enjoys this game due to its open-ended structure. You don't feel the same pressure of pursuing objectives as you do in other games like Scythe. Often times you're just as content hanging out in the mines for a few turns, hoping to gather up some gold nuggets so you can pay for a new horse.
This game is tons of fun – you owe it to yourself to add it to your collection!
Nemesis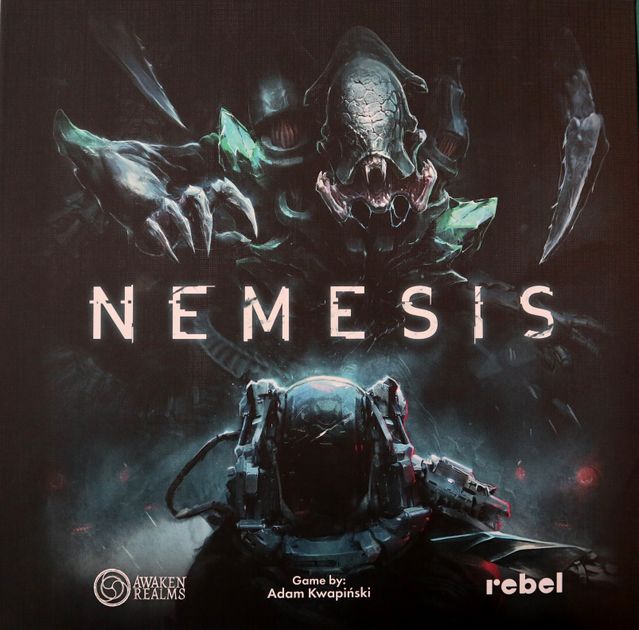 Nemesis is essentially the greatest non-official Alien-esque board game on the market. This semi-cooperative sci-fi thriller of a game pits you and a team of space explorers against an alien infestation. You must navigate your spacecraft, avoid/fight aliens, repair damaged areas and make sure the ship's destination is where the mission is meant to go. The minis for the characters are well done, but the alien minis are on a whole other level! Click here if you'd like to learn a little bit more about the game. Because Nemesis was originally a kickstarter game, it is difficult to find at times for purchase at varying price points. I suggest doing a thorough search of online prices before buying.
Mice and Mystics
Mice and Mystics is a beautifully whimsical co-op adventure game in which you and your companions have been turned into mice by the evil Vanestra. You must fight your way through rats, cockroaches, spiders and more in order to same the kingdom and undo this evil magic. Mice and Mystics is absolutely a gateway into playing D&D. With the suggested age of 7+ and 1-4 players (but can be adjusted for more with some home-brew rules), it is the perfect adventure game for families with younger children who show an interest in tabletop RPGs. Your party will navigate MANY scenarios, acquire upgrades, weapons, items and learn to work together in order to defeat the large variety of creatures that stand in your way. The art and minis are adorably captivating. If you enjoy adventure games, you will not be disappointed. Learn more about Mice and Mystics by following the link here and click over here to order your copy today!
Gloomhaven
Remember at the beginning of this article when I said there wouldn't be an order to this list? Well I lied. If you were to choose any game from this list to order and play, it should be Gloomhaven. This is hands down my favorite tabletop game I've ever played. You and a party up to 4 (but in reality you can home-brew it for more players) serve as mercenaries to fulfill quests, clear dungeons and pretty much do whatever else you'd like. Each character will have their own personal quest, which when completed will retire their character and unlock another. As you travel, fight and explore, your character will level up and unlock new cards to adjust their personal battle deck. The brilliant play mechanic hooked me after the first quest. I normally tire of games after a few play throughs, but I've been playing multiple times a week for months now and I still want to play another scenario as soon as we finish one. Don't let the near $100 price tag deter you. This game is well worth the money and will last you and your friends for a VERY long time. Click here to order your copy of Gloomhaven today, you can thank me later.
A big thanks to Mithrandiel and Illusion for helping me put this list together. Enjoy checking out these games and stay safe out there!